Hi folks! We have been working hard in the last few weeks to fix some bugs and improve our platform. Here's what we've done:
SSL monitoring toggle
When a site was added to an account, it was impossible to disable or enable the SSL monitoring. Also, if you wanted to have non-SSL and your website was running with SSL, we would force SSL. This is no longer the case.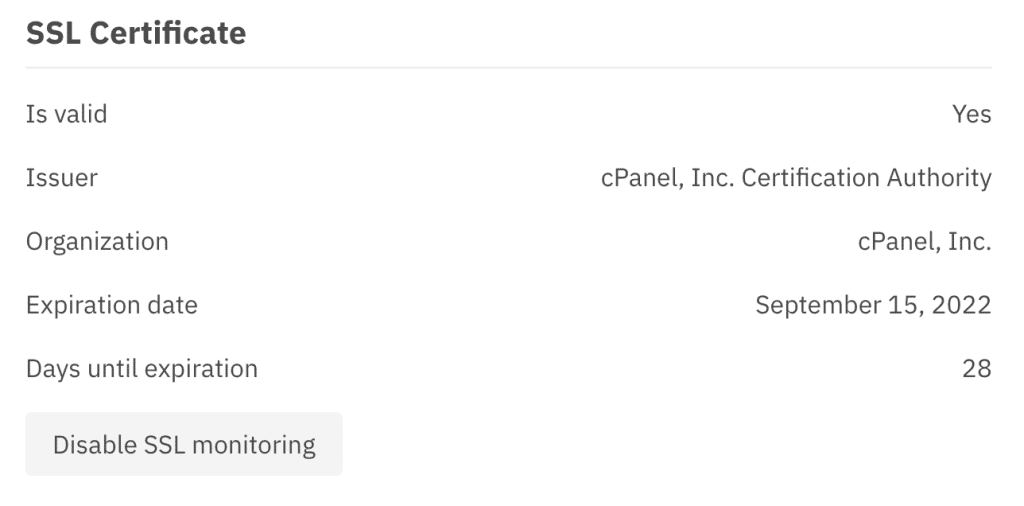 Better SSL monitoring
We have improved how the SSL certificates were validated and it will now be more accurate.
Improved DNS monitoring
There were a lot of false positives for DNS entries and many people were receiving emails every day. We have updated the way entries are analyzed and it will now be possible to know if an entry has been modified.
We noticed that it was mostly the SOA type entries that generated false positives, because the serial is frequently updated.
Dashboard statistics
We have added statistics on the dashboard screen to let you see the average uptime of all your websites, the total number of incidents and the average downtime for the last 12 months.
This can be useful for marketing to inform potential clients.

Improvement of false positives
We take time to look at all 22500 failed monitors to see how we can improve false positives. We have added additional validations to ensure that your website is truly unhealthy.
Unreachable websites
If your website is inaccessible, we will now temporarily disable monitors and observers. A notification will be sent to you to fix the issue and you will be able to reactivate the monitoring.